Enhancing your dairy brand with fair trade
Fair Trade Dairy Makes a Difference
Farmworker input and feedback were a critical part of the development of our Agricultural Production Standard (APS), and we continue to ensure farmworker voices are heard as we continue to evolve, adapt, and scale the Fair Trade Certified Dairy program.
As part of our monitoring system, our team designed and implemented surveys of Fair Trade dairy workers and farmers at several dairy farms from 2020-2022. A total of 320 surveys were collected. Here are some of our findings.
34%
Of workers have perceived an increase in leadership trust since fair trade certification
32%
Of workers consider the Premium Fund the leading benefit of the fair trade program
$3,207 USD
The average monthly income of workers
68%
Of workers are able to cover their basic needs (up 16% from 2020)
71%
Of workers either strongly or somewhat agree with the statement 'I feel valued by my employeras a worker on this farm'
90%
Of workers are either very or somewhat satisified working at their farm
Ready to learn how Fair Trade Certified can work for you?
Fill out this form to take the next step!
Our Standards
Learn about our Agricultural Production Standard (APS) & Dairy Amendment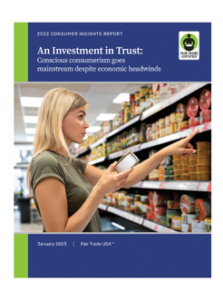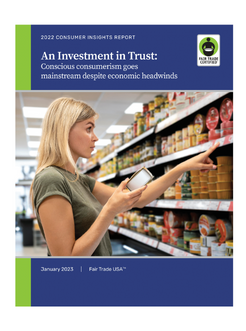 U.S. Consumer Insights Report
See why more than 1,500 companies have chosen fair trade certification to meet sustainability goals, increase brand trust, and reach more shoppers.